If you want to access your email directly from your domain rather than redirecting the mail to an existing email account, we recommend using Eudora as your email client. This is an email program that runs under Windows and Macintosh OS. There are many good reasons for using Eudora, one of which is that it allows multiple email accounts and personalities. See your program documentation for instructions on how to set those up.
Eudora connects to the mail server over the Winsock or Macintosh TCP/IP. Mail may be composed and read offline, but make sure that you are online before attempting to send or receive email.
top of section | tutorial index
---
1. Download and install Eudora 5.1. Click here to download or go directly to www.eudora.com
2. From the Menu bar select "tools" and then "options"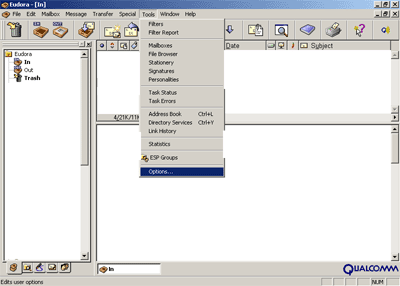 3. Select "getting started" in the options Menu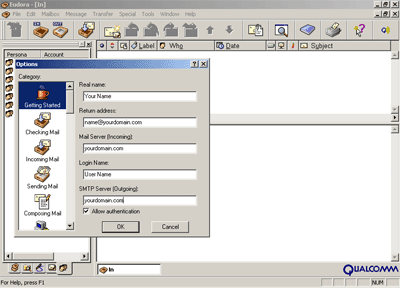 4. In "Real name", enter the name you would like to see when sending e-mails
5) In "Return Address", enter the email address you wish to send mail from: name@yourdomain.com
6) In "Mail Server (Incoming)", enter yourdomain.com.
7) In "Login Name", enter the User name of your account.
8) In "SMTP Server (Outgoing)", enter in yourdomain.com
9) Click OK
10) Click on the "checking Mail" tab.
11) Enter your domain name as the mail server and enter your username in the login name section. You may also want to select the save password box.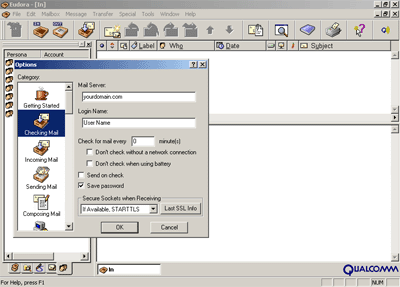 Testing your e-mail:
Select "Check Mail" under the File menu.
Enter your password into the Password Window that pops up, then click on the Proceed button.
Eudora will check to see if you have email.
You can now send a test email message to yourself and then check to see if it gets returned to you. If you checked "Save Password", Eudora will not prompt you again for your password after the first time.
Note: Your default email address is yourdomain@yourdomain.com This is where all of your email will be sent to, unless other configurations take priority (such as autoresponders and redirects).
top of section | tutorial index
---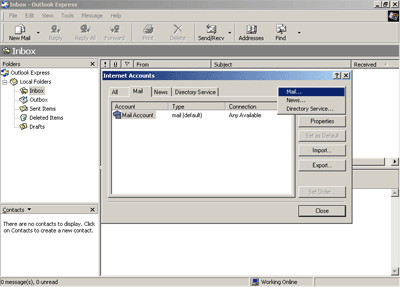 1) In the Menu bar click on "tools" and then "accounts"
2) Click on "add" and then "mail"
3) In Display Name, type your name. Click "Next"
4) E-mail address: enter yourname@yourdomain.com Click "Next"
5) My incoming mail server is a "POP3".
5) Incoming Mail (POP3 or IMAP)server: Enter your domain.com
6) Outgoing Mail (SMTP) server: Enter yourdomain.com
7) Click Next
8) POP account name: User Name Password: Your Password Click "Next".
9) Internet Mail Account Name: Your can name this whatever you would like. It can always be changed later
10) Choose your connection type depending on your connection method.
11) Click "Finish"
top of section | tutorial index
---
1) In the Menu bar, select "tools" and then "accounts" (98/00). Or, "e-mail accounts" (Win XP)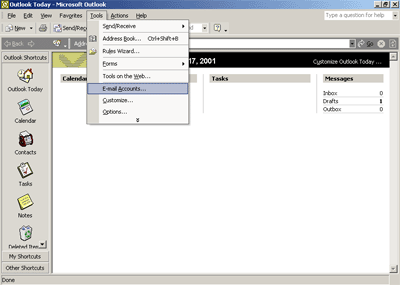 2) Select add a new E-mail account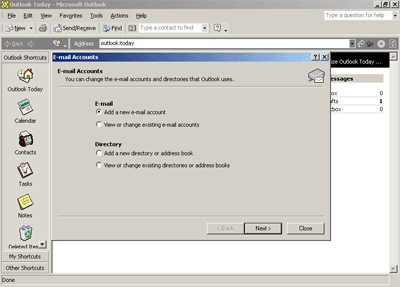 3) Select POP3 and click next
4) Fill in all information. Enter your name, your e-mail address, your username and password. Both the Incoming and outgoing mail server will be your domainname.com
5) You can then select "test account settings". Microsoft Outlook will then test the configuration for your POP e-mail account.
6. You are now all set to send and receive e-mail and add more accounts if needed.
top of section | tutorial index
---
1) From Netscape Composer select "edit" and then "mail/news account settings"
2) Select new account.
3) Select ISP or email provider and click next.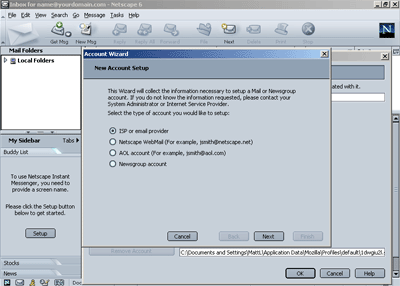 4) Enter your name and e-mail address and click next.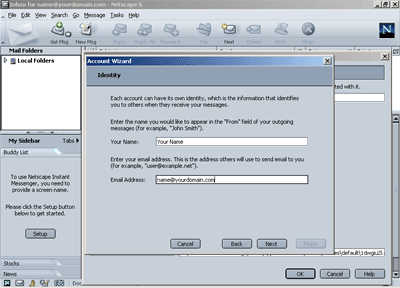 5) Select POP as your incoming mail server. Then enter your domain name for both the incoming and outgoing mail server. Click next.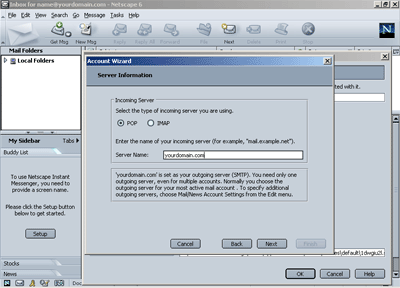 6) Enter your User Name for your account.
7) Enter any name that you would like to call this account. Example: Home Account.
Click Next
8) Verify all account information and click "finished"
9) You have successfully configured Netscape Composer to be your email client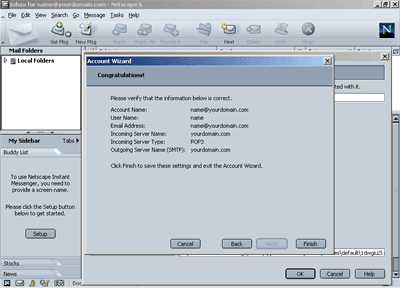 top of section | tutorial index
---
These are basic rules to follow in regards to setting up email accounts with various email clients.
Information needed = what you need to enter
Full name = Enter your name
Email = name@yourdomain.com
Internet Mail server = yourdomain.com
Account = Enter User Name
Pass = Enter Password
SMTP = yourdomain.com
From = name@yourdomain.com
top of section | tutorial index
---
Checking your email on your browser
To check your email via the browser, log-in at: www.yourname.com/webmail
top of section | tutorial index